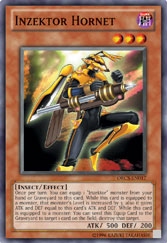 "Bugs buzzing here, over there, they are Everywhere!" So those that follow my YouTube Channel know that I will be attending the a Regional Event this weekend in Kissimmee, FL. As many of you are aware from my channel, and or the common sense clues of the title and/or picture, I am running Inzektors as my main deck. I will be honest though, this deck has not been easy for me to get together. I have changed my deck about 100 times (not exaggerating). It has been a challenge to get this deck strong enough to fight against the strong decks currently floating around.
Let's take a look at Inzektor's track record, they have not won a YCS, though they have seen one to two spots in the Top rankings. Why haven't Inzektors been crowned as champion? Why haven't they made a dent in the current Format? I have one simple answer to both of these questions: "The deck is easy to Beat. PERIOD." This is one of the easiest decks to side against, making it easy to obtain victory against them. 
So knowing this, it has been my goal to get this deck to Champion status. Every deck has a chance to win, all it takes is Consistency, Variety, and Versatility. Remember those three things, they are the keys to success for every deck. 
I have been testing this deck a lot, and when I say a lot, I mean A LOT. As stated above I have been changing the build to make it the best it can be. With the recent announcement of Dark Worlds winning YCS Longbeach, as well as a plethora of other decks topping, the deck needs to change in order to compete. So what decks am I keeping in mind while building my Inzektor deck? Heres the list:
Dark Worlds- We all know, when a deck wins…the net-deckers come out of the wood work. So be expecting them. 
Dino Rabbit- This deck has proven itself as a threat in every YCS event. Dino Rabbit has been topping in large numbers, so it is vital to be able to beat them. 
Wind-Ups- This archetype has an amazing ability to ruin your entire hand, and in a blink of an eye your left top-decking. Wind-Ups are a threat, Period, no doubt about it. 
Hero/Hero Variants- With the uproar on Shining, and Acid…Hero decks have seen a big boost in play. There were a lot of Hero decks in YCS, and even the pros will say…."They are tough". Get ready for them guys!
So I believe that these decks are to be feared, and heavily considered when building a deck. Your deck should be able to stop these decks, but be versatile enough to face other "rogue" decks floating around. My Inzektor build is in Surgery right now….I have to remove what wont work, and implant the keys of success. 
I am working on "teching" cards that will stop the current meta, but wont render my deck useless against "rogue" decks. Trust me, this is no easy task. 
I will keep you all updated on my progress. Please make sure you follow this series to see how well I do in the end :) 
Check out the YouTube Channel:
www.youtube.com/user/DuelingBunnieZ
Check out the Forum: